Services
Residential Aquariums
Mas Aquatics ensures every tank we set up is individually unique in its own way. From pre-manufactured to custom made, our aquarium décor will enhance and brighten up any room.
Installing an aquarium in an office allows for a more creative work environment and helps to alleviate stress and pressure. Let us create an aquatic view for the office, or design a custom breathtaking aquarium for your home.
Aquariums showcase beautiful fish from around the world. The assortment of colours, sizes, and shapes provide hours of enjoyment and relaxation.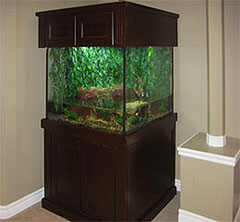 A
150 gallon terrarium
is home
to 4 painted turtles.
Commercial Aquatic Displays
Mas Aquatics provides installation, service/support and supplies for a majority of the commercial aquariums and live seafood displays found in Canada's largest pet and grocery retail chains. These companies depend on us for our industry-leading expertise and reliable service.
Some of our commercial aquarium clients include: Casco, Atlas, Dutch Aquarium Systems and Marineland.
Some of our live seafood and lobster tank clients include: Stark, Marineland and DBE.
Most manufacturers are located in the USA and getting parts can sometimes prove difficult or costly. Mas Aquatics stocks a majority of parts for these commercial units at an affordable price and can often have them delivered next day without the international and duty charges normally associated with shipping across the border. Contact us for a price list.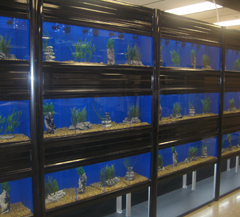 Casco commercial aquariums
installed
and ready for customers.