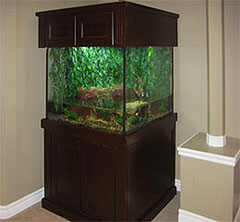 Mass Aquatics Offers:
Custom design & set-up of aquariums for residential, offices, commercial and retail
Freshwater and Saltwater aquariums
Tropical, Marine, and Reef tanks
Filtration media and aquarium parts
Commercial parts
Complete service and maintenance programs
Tank relocation
Short term leasing
24 hour emergency assistance
Free consultation
100% customer satisfaction
About Mas Aquatics
Established in 2001, Mas Aquatics has grown to become Ontario's premier aquarium service and maintenance company. We are the only company that provides installation, service and support for residential customers as well as all major pet store chains and independent pet stores across Canada.
Located just outside Toronto in Mississauga, ON and with technicians ranging from Victoria, BC to St. John's, NF, we are Canada's largest aquarium maintenance and service provider.
Mas Aquatics provides expert aquatic consultation and professional maintenance services for existing aquariums, lobster tanks and live aquatic seafood displays. Our clients will never be asked to sign a contract — we pride ourselves on outstanding customer service and quality excellence.
From custom aquariums to standard aquariums, salt water or fresh water, Mas Aquatics can offer a suitable maintenance plan designed to meet all of our clients' needs. Along with our standard maintenance services, our technicians can also provide filtration media replacement, water supplements and water quality testing.

Michael Stocco,
President